Fujifilm has announced the GFX100S, a camera that takes the "groundbreaking ideas" of the GFX100 and rethinks them with a focus on portability. The result is a compact, high-performance medium format camera that is similar in size to full-frame equivalents and weighs just 1.9 pounds.
Fujifilm says that the GFX100S is more advanced than any GFX System camera to date and combines the best of Fujifilm's imaging technology into a compact camera body.
102 Megapixels
Fujifilm says the backside-illuminated 102-megapixel sensor is powered by its high-performance quad-core X-Processor 4 CPU. It should be noted that Fujifilm still insists on calling this a "large format" sensor, but it is in reality a medium format sensor.
The GFX100S medium format sensor is approximately 1.7 times larger, and Fujifilm claims it is "enhanced" to be incredibly sensitive to light. The company says that this provides it with a significant advantage over smaller sensors when it comes to producing images with shallow depth of field, dynamic range, faithful color reproduction, and high-ISO performance.
Fujifilm is packing 19 "exclusive" Fujifilm Film Simulation modes into the GFX100S as well, including the new "Nostalgic Neg."
Reminiscent of American New Color Photography, which emerged in the 1970s, Nostalgic Neg continues this movement by enabling image-makers to explore the boundaries of photographic creativity through the deliberate use of color.
High-Performance Autofocus
Fujifilm says that the on-sensor phase-detection pixels cover nearly 100% of the GFX100S's sensor, and can acquire focus in as little as 0.18 seconds, even in low light levels down to -5.5EV (tested specifically with the FUJINON Lens GF80mmF1.7 R WR lens). Also, thanks to the aforementioned X-Processor 4 CPU, the GFX100S also features an updated focus tracking algorithm when using Tracking AF and Face/Eye AF.
5-Axis In-Body Image Stabilization
The GFX100S implements a newly-designed IBIS system that the company says dramatically expands the capability of the camera in handheld situations. Compared to the unit found in FUJIFILM GFX100, the IBIS mechanism inside of GFX100S is 20% smaller and 10% lighter. Despite this reduction in
size, the five-axis system provides 6-stops of CIPA-rated image stabilization, a 0.5-stop improvement over GFX100.
Compact Size and Intuitive Controls
The body of the GFX100S measures 5.9 inches wide, 4.09 inches tall, and 3.4 inches deep which Fujifilm says is comparable to many full-frame cameras (though they stop short of saying "mirrorless" full-frame cameras). That said, it is quite compact for a camera containing a sensor of this size as well as an IBIS system behind it, which is worthy of praise. The GFX100S is 1.1 pounds lighter than the GFX100 but Fujifilm claims it maintains the same level of still image and video performance despite the weight reduction.
The GFX100S is made to operate in temperatures as low as 14°F (-10°C) and to also be dust- and moisture-resistant. It is constructed with a magnesium alloy casing that is purposely 1mm denser around the lens mount as compared to GFX100, which provides added support for larger G Mount lenses.
The camera features the classic PASM dial with six programmable custom options along with an easy-access switch that is located next to the model dial to swap quickly between still and video modes. The rear of the camera features a tiltable 3.2 inch touch 2.36-million-dot LCD.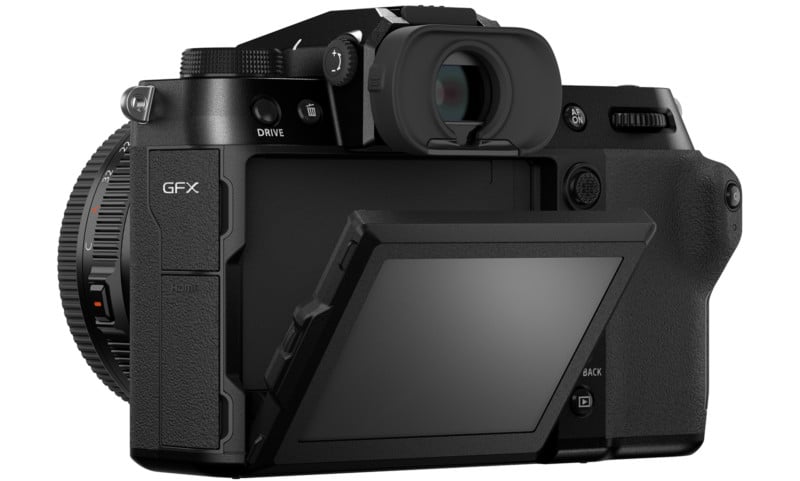 Medium Format Video
The GFX100S can capture 4K video up to 30 frames per second in 16:9 aspect ratio as well as 17:9 aspect ratio in either H.264 or H.265 codecs. Footage can be recorded at bit rates of up to 400Mbps in 10-bit 4:2:0 F-log internally saved to an SD card, or output to an external recording device via the camera's HDMI port.
Speaking of HDMI out, when using an Atomos Ninja V Monitor Recorder, the GFX100S is capable of outputting 4Kp30 footage through its HDMI port in either 10-bit 4:2:2 F-Log or 12-bit Apple ProRes RAW. Simultaneous output of RAW footage and footage in F-Log or Hybrid Log Gamma (HLG) with a Film Simulation mode applied is also possible.
The GFX100S is expected to be available starting in March 2021 for $5,999.95, and an optional handgrip accessory will be available around the same time for $149.
---
Editor's Note: Fujifilm's original press information, and therefore the original coverage, for the GFX100S stated that it could acquire focus in as little as 0.16 seconds. The company reached out to apologize for this error, as it is actually as little as 0.18 seconds.
really addicted to cameras and old school stuff